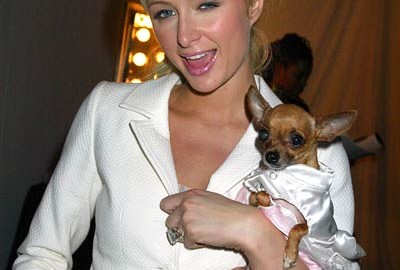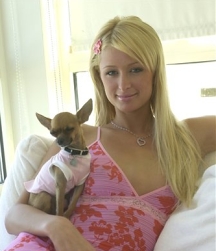 The most favorite pet of Paris Hilton – Chihuahua Tinkerbell, who has already been named the most popular and most discussed animal in America. This pup is going with Paris everywhere: to the TV shows, interviews and filming. Paris is dressing her favorite pet in a fabulous clothes – not at all worse than she would dress herself. Tinkerbell's costumes are always in harmony with the dresses of Paris, and they do not cost less. For example, at Christmas this cute little pup was dressed in a red velvet Santa's suit and he was looking just great beside the Christmas trees and Paris herself.
The tiny dog disappeared during an apparent dog-napping way back in 2004. Tinkerbell was returned to Hilton, but little explanation was offered for how it all happened. Posters pleading for the return of Tinkerbell had been plastered all over West Hollywood shortly after Hilton's home was burglarized. Paris already has a Yorkie named Cinderella, another Chihuahua named Tinkerbell, and she used to have a kinkajou named Baby Luv which she was forced to give up. I just think it's funny she picked out a dog with the same wonky eye as her. Although it's too bad she didn't get one with the same IQ. I've always wanted to see a dog walk around in circles, fall down confused, and then try to eat its own feet.
Everyone seems to be looking for information on Chihuahuas these days. The search term "Chihuahua" is the number one dog search on the Internet. Paris Hilton is always in the top 10 for celebrity searches. Paris owns a Teacup Chihuahua named "Tinkerbell". This pet is almost becoming as famous as the owner.
.
http://www.petpaw.com.au/wp-content/uploads/2013/01/Paris-Hilton-and-her-dog.jpg
400
400
Tristan G
http://www.petpaw.com.au/wp-content/uploads/2012/06/logo2.jpg
Tristan G
2013-01-29 04:52:11
2013-08-23 04:14:36
Chihuahua Owned By Paris Hilton: Celebrity Pet of the Week