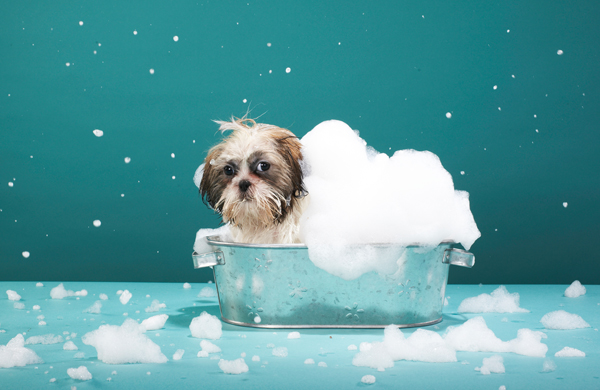 How to bathe your dog? Sounds very simple but sometimes bathing doesn't go the way you intended, especially if you're bathing the dog for the first time. However, some little and practical things can be of great help.
Before bathing, place a blanket or some rag on the floor, you'll prevent the water and hair getting on the carpet. Have everything you need – two towels, a shampoo and a conditioner – near the tub or shower. When it comes to bathing a puppy for the first time, put some of his toys in the tub, make it a game for him.
If your dog's hair is all tangled up, it will be even harder to untangle it after the bath, so do it before.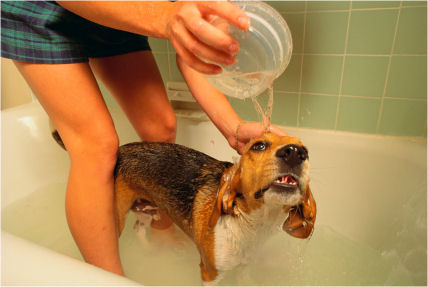 Some dogs get really scared when you put them in a tub full of water; they jump, slip, shake and look all together miserable and sad. During the bath you might even get wetter than your dog and you'll spend most of the time trying to keep the dog in the tub. Instead of immersing the dog into water, it is much easier to give him a shower. The dog will feel safer if he's standing firmly in the tub and you won't be as wet. It is much easier to shampoo and rinse with a shower.
Before you start with bathing it is recommended to put a rubber mat in the tub, or at least a towel so that the dog doesn't slip. Some people prefer drenching their dog in the yard using a hose and a bucket, but this is recommended only if it's a warm and sunny day.
It is recommended to wash the dog's head and snout with a sponge or a towel. Beside the fact that this is more comfortable for the dog than having water poured over the snout, you won't get the inside of the ear too wet.
Ideally, wash the dog with a pet shampoo customized for his hair type. However, if you're not currently able to obtain such shampoo, use that intended for babies. If your dog has long hair add some conditioner, that will help you comb his fur more easily.
After shampooing, it's necessary to rinse and then rinse some more. Any shampoo residue will cause itching. Pay special attention not to get the shampoo in your pet's eyes or snout. When you least expect it, your completely wet dog will shake and spray the entire bathroom, and you won't be spared. To dry the dog and avoid wet-dog shake, place one corner of the towel over its head and use the other side to wipe him.
After you've dried him the best you could, put him on the blanket. Although he will try to get away and wipe himself on something, hold him gently, dry completely with a blow-dryer or towels and enjoy! You pet is gorgeously clean and ready to get dirty again.
http://www.petpaw.com.au/wp-content/uploads/2013/03/how-to-bath-your-dog.jpg
390
600
Tristan G
http://www.petpaw.com.au/wp-content/uploads/2012/06/logo2.jpg
Tristan G
2013-03-27 04:14:39
2013-04-03 02:46:28
The Psychology Study of Successful Dog Bathing