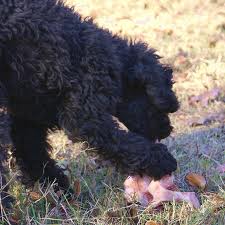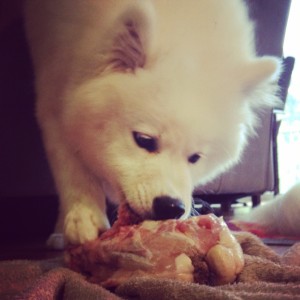 Today many pets suffer from health conditions that were rare or didn't even exist before kibble became popular. Diseases like cancer, diabetes, food allergies and obesity are some of the most common health issues in dogs fed commercial or human food. Numerous researches have shown a strong connection between the health problems in dogs and the food they eat.
For this reason there's a huge shift in the manner dog owners are feeding their pets. The overwhelming trend is moving towards different variations of fresh and healthy homemade meals, as well as raw food, based strictly on meat or a combination of raw meat and vegetables, fruits, eggs and other nutrients suitable for dogs.
It seems that the dogs like the change, especially raw diet which seems to help them overwhelm health issues such as bad breath and gum diseases, skin problems, kidney and liver failures. It seems that balanced diet consisted largely of homemade broth, various combinations of meat, bones, and organs with or without a healthy complement of vegetables, fruits, and dairy prevent illnesses that come with a diet heavy in fillers, flavors, artificial colors and preservatives.
What are the other benefits of raw feeding? If you ask the owners, they will assure you that their pets have clean, shiny and white teeth, fresh breath, and almost no body odor. Raw fed dogs have more energy but, at the same time, are less hyperactive which means that they can be easily controlled. According to some, raw meat makes dogs aggressive but that is not true. The only change is that dogs really love their raw and they will probably try to guard this type of food better than kibble.
What else can forty to sixty per cent of raw meaty bones bring to your dog? Chicken necks, legs, and backs, together with rabbit, duck, pheasant, and occasionally whole fish will give your canine friend a firm and muscled body and stronger immune system. If your dog is old and his teeth are missing so he finds it hard to chew bones or you are afraid of him choking – grind them up. Even the old dogs with arthritis show more mobility and energy when they eat the way their ancestors did.
We all know that vitamins, minerals, and enzymes are destroyed by cooking and that intense heat reduces the nutritional value of food. But did you know that cooked food also affects your dog's stool? Not to mention the kibbles. When dogs are fed raw the poop is small, almost odorless, firm and easily decomposed. The only difference can be noticed during the period of adaptation to raw after commercial food.
Although there are many benefits of raw food, the fact is that this kind of feeding is still relatively unexplored. This means that some of the benefits mentioned above are not scientifically proved, but information provided by the dog owners. We hope that this will change in the future and that we'll be able to give you more tips on how to feed your dog.
http://www.petpaw.com.au/wp-content/uploads/2013/05/dog-raw-food.jpg
225
225
Tristan G
http://www.petpaw.com.au/wp-content/uploads/2012/06/logo2.jpg
Tristan G
2013-05-29 07:36:23
2013-08-06 06:27:15
The Benefits of Raw Feeding