American Staffordshire Terrier – Pit Dog
What makes the American Staffordshire Terrier Unique?
This stocky dog should be muscular, giving the impression not only of great strength for its size but also of grace and agility. Its gait is springy. Its low center of gravity helped it stay on its feet in a fight, and its nimbleness helped it avoid its opponent's teeth. Its own jaws are strong with great power. Its coat is short, close and glossy.

Typically docile and playful with its family, the American Staffordshire terrier is also generally friendly toward strangers as long as its owners are present. It is generally very good with children. It is a protective breed and can be aggressive toward other dogs — especially those that challenge it. It is stubborn, tenacious and fearless. For all of its tough persona, the most important thing in life to this breed is its owner's fond attention.
Terrier Dog Breeds
Medium Size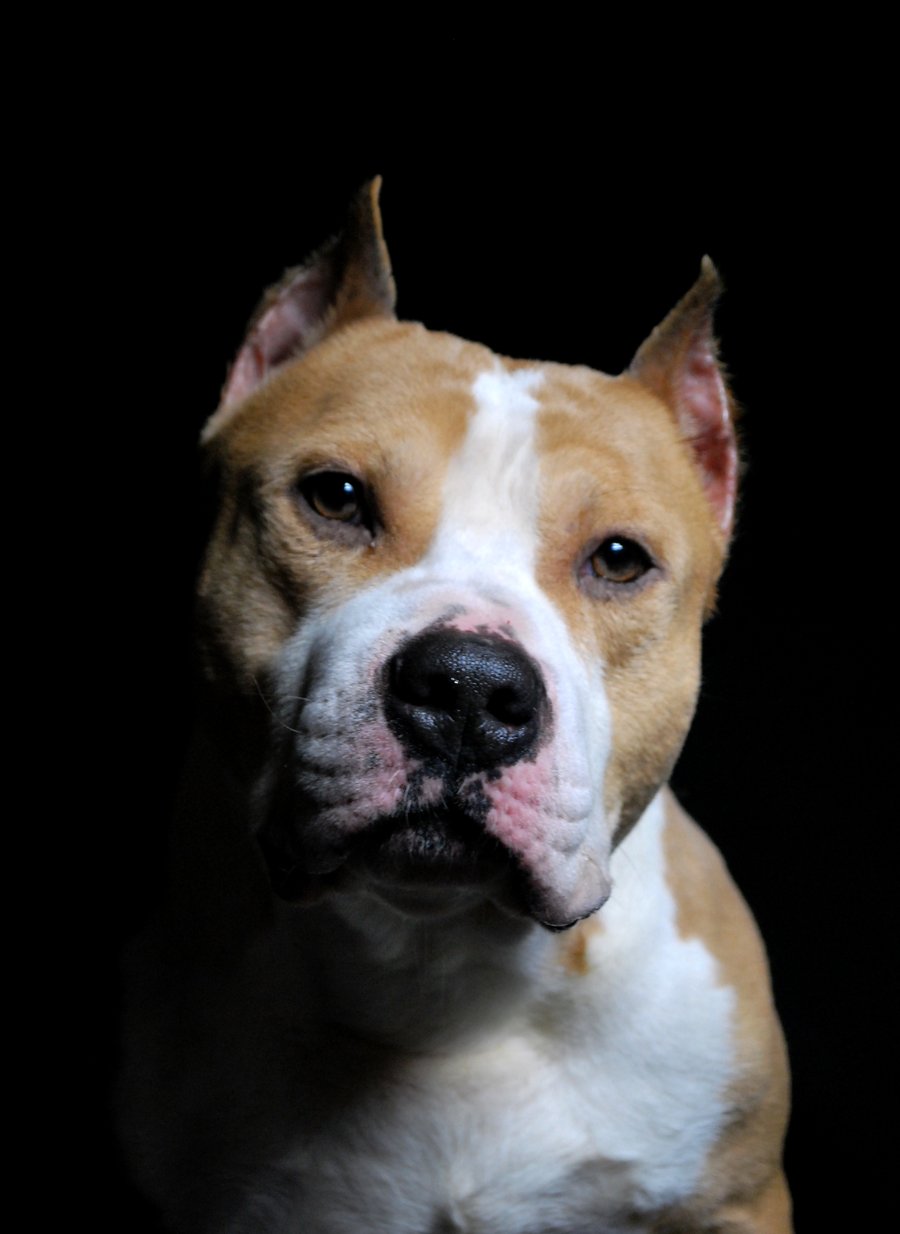 Size:
Males – 46 to 48 cm (19 to 22 inches)
Females – 43 to 46 cm (17 to 19 inches
Weight:
Males – 28 to 40 kg (60 to 80 pounds)
Females – 28 to 40 kg (60 to 80 pounds)
Origin:
United States/United Kingdom
Life Span:
10 – 12 years
Colour:
 Fawn, Brindle, Sable, Blue, Brown, Black
Litter Size:
4 to 13 puppies, 8 being the most common
Is the American Staffordshire Terrier Right For You?
The American Staffordshire terrier and the Staffordshire bull terrier descended from the same lines. The prototype originally sprang from crossing the old type of bulldog with some old terrier types, probably the English sooth terrier. The result was aptly called the "bull and terrier," later to be dubbed the Staffordshire bull terrier. The dogs gained fame among fanciers of dog fighting, a popular sport despite its having been declared illegal. Their fighting ability gained them passage to America in the late 1800s, where they dominated the fighting "pits." Here they became known as the pit bull terrier, American bull terrier and even Yankee terrier. Americans favored a slightly bigger dog than the English preferred, and with time the two strains diverged.
Devoted
Loyal
Tenacious
Friendly
Courageous
Learn About the American Staffordshire Terrier
Description
Description
Head
Medium length, deep through, broad skull, very pronounced cheek muscles, distinct stop; and ears are set high. Ears – Cropped or uncropped, the latter preferred. Uncropped ears should be short and held rose or half prick. Full drop to be penalized. Eyes – Dark and round, low down in skull and set far apart. No pink eyelids. Muzzle – Medium length, rounded on upper side to fall away abruptly below eyes. Jaws well defined. Underjaw to be strong and have biting power. Lips close and even, no looseness. Upper teeth to meet tightly outside lower teeth in front. Nose definitely black.
Neck
Heavy, slightly arched, tapering from shoulders to back of skull. No looseness of skin. Medium length.
Shoulders
Strong and muscular with blades wide and sloping.
Back
Fairly short. Slight sloping from withers to rump with gentle short slope at rump to base of tail. Loins slightly tucked.
Body
Well-sprung ribs, deep in rear. All ribs close together. Forelegs set rather wide apart to permit chest development. Chest deep and broad.
Tail
Short in comparison to size, low set, tapering to a fine point; not curled or held over back. Not docked.
Legs
The front legs should be straight, large or round bones, pastern upright. No semblance of bend in front. Hindquarters well-muscled, let down at hocks, turning neither in nor out. Feet of moderate size, well-arched and compact. Gait must be springy but without roll or pace.
Coat
Short, close, stiff to the touch, and glossy.
Color
Any color, solid, parti, or patched is permissible, but all white, more than 80 per cent white, black and tan, and liver not to be encouraged.
Size
Height and weight should be in proportion. A height of about 18 to 19 inches at shoulders for the male and 17 to 18 inches for the female is to be considered preferable.
Faults
Faults to be penalized are: Dudley nose, light or pink eyes, tail too long or badly carried, undershot or overshot mouths.
Short History
Short History of the American Staffordshire Terrier
The Staffordshire Terrier was first bred in the nineteenth century in the English region of Staffordshire. The early ancestors of this breed came from England, where Until the first part of the 19th century, the Bulldog was bred in England for the purpose of baiting bulls. Bulldogs pictured as late as 1870 resemble contemporary American Staffordshire Terriers to a greater degree than present-day Bulldogs. Some writers contend it was the White English Terrier, Fox Terrier, or the Black and Tan Terrier that was crossed with the Bulldog to develop the Staffordshire Terrier; all three breeds shared many traits, the greatest differences being in color, aggressiveness, and spirit. The cross of Bulldog and Terrier was called by several names, including Bull-and-Terrier Dog, Half and Half, and Pit Dog or Pit Bull terrier. Later, it assumed the name of Staffordshire Bull Terrier in England. These dogs began to find their way into America as early as 1870, where they became known as the Pit Dog and Pit Bull Terrier, then the American Bull Terrier, and still later as the Yankee Terrier.
Temperament
Temperament
Loyal, intelligent, determined, tough, devoted; does well with children when socialized as a puppy; often does not do well with other pets.
Caring for Your American Staffordshire Terrier
Grooming & Bathing
Grooming & Bathing
American Staffordshire Terriers possess a natural eagerness to please their owners. With proper care and attention, your AmStaff can be an exemplary member of the family.
Bred to be both swift and strong, American Staffordshire Terriers love to play fetch, go for runs and work. They are very strong for their size: AmStaffs can pull very heavy objects, bite through rubber and wire, and they have a high tolerance for pain and fatigue. Keep them busy and loaded with positive reinforcement, and they'll maintain an upbeat and steady mood.
Exercise & Training
Exercise & Training
This breed needs a vigorous daily workout, along with some mind games, in order to be at its best. A good long run or a rollicking game of ball is a great way to bond with an American Staffordshire terrier. Obedience training is also good mental exercise