What makes the Bullmastiff Unique?
This nearly square breed should be powerful and active — a combination of strength, endurance and alertness. It should appear to be 60 percent mastiff and 40 percent bulldog. Its gait is smooth and powerful, but its angulation is moderate. Its coat is short and dense, and its expression keen and alert. These attributes allowed the bullmastiff to both overtake and over-power intruders.

The bullmastiff is gentle and quiet, a devoted companion and guardian. It is not easily roused, but once threatened it is fearless. It is stubborn and cannot easily be goaded into action against its will. Some can be aggressive toward strange dogs, but it is generally good with other household dogs and pets. It is good with children, but it may not be playful enough to satisfy some children. The bullmastiff needs a firm but loving home. It is not for fragile or timid owners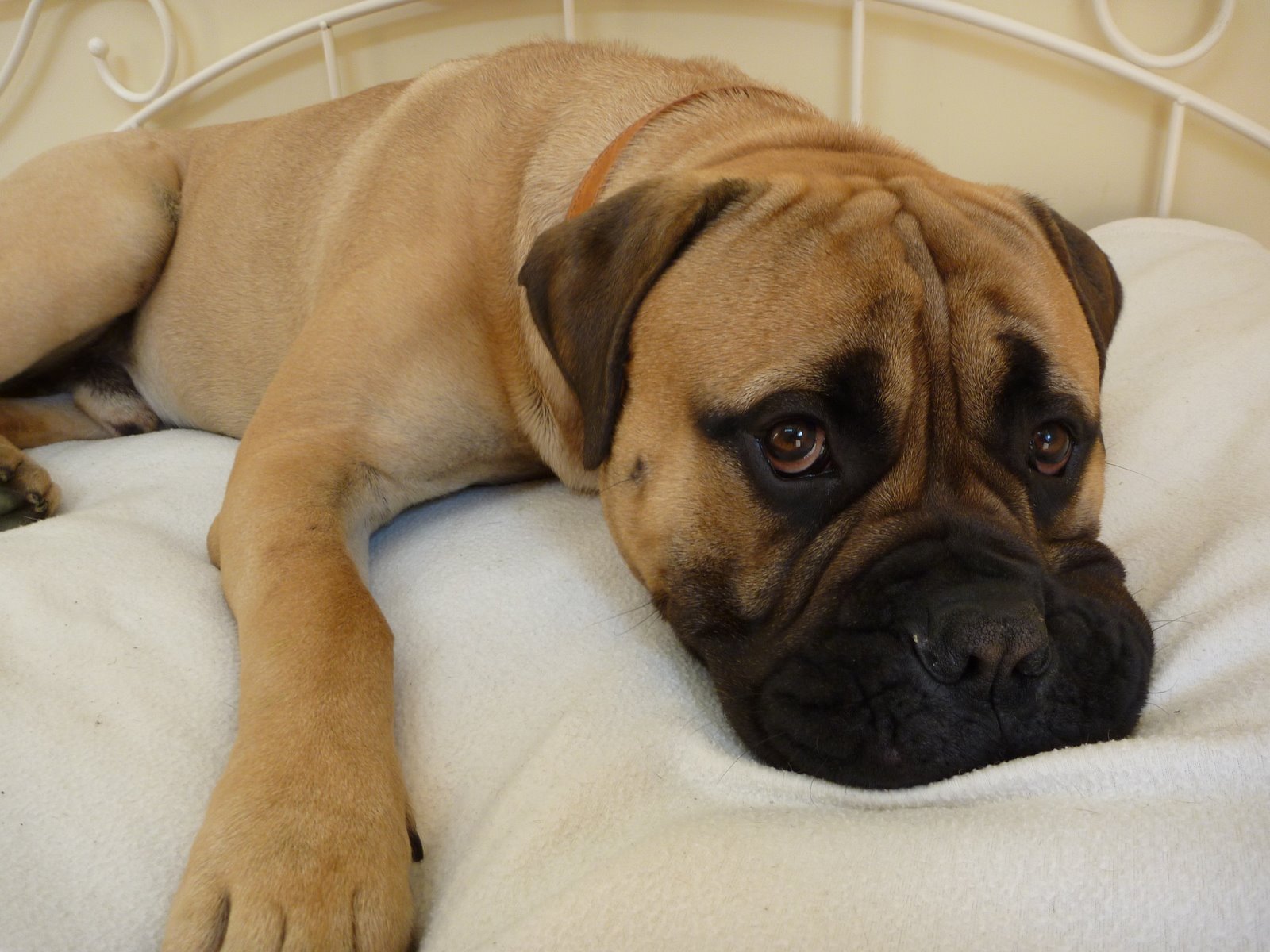 Size:
Males – 64 to 71 cm (25 to 28 inches)
Females – 61 to 66 cm (24 to 26 inches)
Weight:
Males – 50 to 59 kg (110 to 130 pounds)
Females – 45 to 54 kg (100 to 120 pounds)
Origin:
England
Life Span:
8 – 10 Years
Colour:
Fawn, red, or brindle coat
Litter Size:
4 to 13 puppies, 8 being the most common
Is the Bullmastiff Right For You?
This nearly square breed should be powerful and active — a combination of strength, endurance and alertness. It should appear to be 60 percent mastiff and 40 percent bulldog. Its gait is smooth and powerful, but its angulation is moderate.

The bullmastiff is gentle and quiet, a devoted companion and guardian. It is not easily roused, but once threatened it is fearless. It is stubborn and cannot easily be goaded into action against its will. Some can be aggressive toward strange dogs, but it is generally good with other household dogs and pets.
Powerful
Guardian
Fearless
Obedient
Patient
Learn About the Bullmastiff
Description
Description
The Bullmastiff is massive, very powerfully built, but not a cumbersome dog. The large, broad skull is wrinkled and the muzzle is broad, deep and usually darker in color. The forehead is flat and the stop is moderate. The black nose is wide and has large nostrils. The teeth meet in a level or undershot bite. The medium sized eyes are dark hazel. The V-shaped ears are set high and wide, carried close to the cheeks, giving a square appearance to the skull. The strong tail is set high, thicker at the root and tapering and is either straight or curved, and reaches to the hocks. The back is short, straight and level between the withers and the loin. The short, dense, slightly rough coat comes in brindle, fawn, or red, often with black markings on the head.
Short History
Short History of the Bullmastiff
To control poaching on estates and game preserves in the 1860s, English gamekeepers mixed the English Bulldog with the Mastiff and, voilà, the Bullmastiff came to be. Their combination of athleticism and strength proved to be very successful in policing huge tracts of land. However, instead of attacking trespassers, Bullmastiffs would hold them down or corner them until their masters arrived. When the poaching problem dwindled, Bullmastiffs continued to be in demand, getting work as police dogs, military dogs and of course lovable companions.
Temperament
Temperament
Bullmastiffs were developed as overseers of livestock and flocks. They took their responsibility seriously and developed a reputation for fearlessness in the face of predators. Bullmastiffs were also invaluable to gameskeepers, patrolling the grounds and stopping poachers from hunting the stock. They were trained not to hurt people and would stalk the poachers and keep them subdued until backup arrived to arrest the trespasser.
Today Bullmastiffs maintain their imposing figure and watchful eye, but make a generally docile family pet. It takes a lot to provoke a Bullmastiff and despite what their appearance may suggest, they get along just fine with children. They make great farm dogs, happily keeping an eye on livestock and accompanying farmers as they do their chores.
Caring for Your Bullmastiff
Health
General Health
Bullmastiffs are generally healthy, but like all breeds, they can be subject to certain health conditions. Not all Bullmastiffs will get any or all of these diseases, but it's important to be aware of them if you're considering this breed.
If you're buying a puppy, find a good breeder who will show you health clearances for both your puppy's parents. Health clearances prove that a dog's been tested for and cleared of a particular condition.
In Bullmastiffs, you should expect to see health clearances from the Orthopedic Foundation for Animals for hips and elbows, as well as certification from the Canine Eye Registry Foundation (CERF) that the eyes are normal.
Because some health problems don't appear until a dog reaches full maturity, health clearances aren't issued to dogs younger than two years old. Look for a breeder who doesn't breed her dogs until they're two or three years old.
Common health problems in this breed include cancer, hip and elbow dysplasia, torn anterior cruciate ligaments, bloat, subaortic stenosis, skin and coat problems, hypothyroidism, and entropion.
Hip Dysplasia: This is a heritable condition in which the thighbone doesn't fit snugly into the hip joint. Some dogs show pain and lameness on one or both rear legs, but you may not notice any signs of discomfort in a dog with hip dysplasia. As the dog ages, arthritis can develop. X-ray screening for hip dysplasia is done by the Orthopedic Foundation for Animals or the University of Pennsylvania Hip Improvement Program (PennHIP). Dogs with hip dysplasia should not be bred. Hip dysplasia is hereditary, but it can be worsened by environmental factors, such as rapid growth from a high-calorie diet or injuries incurred from jumping or falling on slick floors.
Elbow Dysplasia: This is a heritable condition common to large-breed dogs. It's thought to be caused by different growth rates of the three bones that make up the dog's elbow, causing joint laxity. This can lead to painful lameness. Your vet may recommend surgery to correct the problem or medication to control the pain.
Hypothyroidism: Caused by a deficiency of thyroid hormone, this disease may produce signs that include infertility, obesity, mental dullness, and lack of energy. The dog's fur may become coarse and brittle and begin to fall out, while the skin becomes tough and dark. Hypothyroidism can be managed very well with a thyroid replacement pill daily. Medication must continue throughout the dog's life.
Entropion: This defect, which is usually obvious by six months of age, causes the eyelid to roll inward, irritating or injuring the eyeball. One or both eyes can be affected. If your Bullmastiff has entropion, you may notice him rubbing at his eyes. The condition can be corrected surgically, which is best done after the dog reaches maturity at one or two years of age.
Subaortic Stenosis: This common heart defect occurs when the aorta narrows below the aortic valve, forcing the heart to work harder to supply blood to the body. This condition can cause fainting and even sudden death. It's an inherited condition, but its mode of transmission isn't known at this time. Typically, a veterinary cardiologist diagnoses this condition after a heart murmur has been detected. Dogs with this condition should not be bred.
Cystinuria: This genetic disorder is caused by an inability to reabsorb cystine, an amino acid, back into the kidney tubules. This results in the formation of kidney or bladder stones, which can cause life-threatening blockages of the urinary tract, especially in males. It's identified through an inexpensive urine nitroprusside test for cystine available through the University of Pennsylvania. Medication, diet, and surgery are all options that may help. Dogs with this inherited defect should not be bred.
Gastric Dilatation Volvulus, Gastric Torsion, Bloat: This life-threatening condition can affect large, deep-chested dogs such as Bullmastiffs, especially if they are fed only one large meal a day, eat rapidly, drink large volumes of water after eating, or are allowed to exercise vigorously after eating. Raised feeding dishes and the type of food given may also be factors. It is more common among older dogs. GDV occurs when the stomach is distended with gas or air and then twists (torsion). The dog is unable to belch or vomit to rid itself of the excess air in its stomach, and the normal return of blood to the heart is impeded. Blood pressure drops and the dog goes into shock. Without immediate medical attention, the dog can die. Suspect bloat if your dog has a distended abdomen, is salivating excessively and retching without throwing up. He also may be restless, depressed, lethargic, and weak with a rapid heart rate. It's important to get your dog to the vet as soon as possible. There is some indication that a tendency toward GDV is inherited, so it's recommended that dogs who develop this condition be neutered or spayed.
Ruptured Anterior Cruciate Ligament: This common knee injury tends to occur in large young dogs during play and older overweight dogs. A twisting of the dog's hind leg, which causes the anterior cruciate ligament to tear or rupture resulting in a sudden lameness in a hind leg. When the ligament is torn or ruptured, the tibia and femur can move against each other. This can lead to arthritis fairly quickly. Surgery is one form of treatment if the ligament is completely torn. If the ligament is only partially torn and other circumstances rule out surgery as an option, the rupture can be treated medically with special instruction on low-impact exercise and, if the dog is overweight, diet.
Cancer: Dogs, like humans, can develop cancer. There are many different types of cancer, and the success of treatment differs for each individual case. For some forms of cancer, the tumors are surgically removed, others are treated with chemotherapy, and some are treated both surgically and medically. Cancers found commonly in Bullmastiffs include lymphosarcoma, osteosarcoma, hemangiosarcoma, and mast cell tumors.
Panosteitis: This is an elusive ailment sometimes seen in young dogs. Its primary sign is sudden lameness, and puppies usually outgrow it by the age of two years with no long-term problems. The lameness can be slight or severe and can be managed with canine pain relievers. Panosteitis is often misdiagnosed as elbow dysplasia, hip dysplasia, patellar luxation, or even more serious disorders. If misdiagnosed, the vet may want to do surgery on your dog that isn't needed. If signs occur, ask for a second opinion from an orthopedic specialist before allowing surgery to be performed.
Skin Problems: Bullmastiffs have sensitive skin that can be prone to rashes, sores, and irritations. They may also be prone to contact or inhalant allergies, caused by a reaction to substances such as detergents or other chemicals or airborne allergens such as pollen, dust, and mildew. Check your Bullmastiff's skin regularly and treat any rashes quickly. Provide soft, clean bedding in crates and other sleeping areas to prevent sores. Sometimes a change to a diet with few or no chemical additives can help. Other Bullmastiffs need long-term treatment with antibiotics or steroids to keep skin problems under control.
Grooming & Bathing
Grooming & Bathing
It is often said that the bullmastiff is a "wash and wear" breed. Their short coats don't require a lot of care, though they will certainly benefit from a quick daily brushing to remove dead hair and keep their coats shiny.
Like all dogs, their ears and teeth must be cleaned regularly, and their toenails should be kept short. Neglect in these areas can and often produce ear infections, flattened pasterns, splayed feet and expensive tooth removal.
Exercise & Training
Exercise & Training
Stubborn and strong, the Bullmastiff will respond to early, firm and consistent training. Exercise patience and rely primarily on praise & encouragement and very little to no correction, as harsh methods will provoke this breed.