The York Chocolate Cat is a medium to large cat with a muscular (but not massive) body structure. The head is a rounded wedge, the muzzle is moderately long.
Affectionate
Loyal
Playful
Sweet
Intelligent
Size:  Large
Weight:  10-16 lbs
Origin: United States
Life Span: 13-15 years
Colour: Rich Chocolate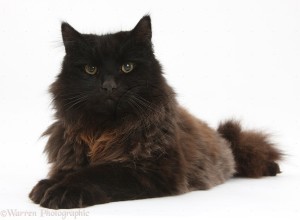 Learn About the York Chocolate Cat
History
The York Chocolate is a newer cat breed. Their development started in the United States the early 1980s by cat breeder Janet Cheifari. One of Mrs. Cheifari's longhaired cats gave birth to a litter of lovely kittens. The breed is relatively new. It was the outcome of the breeding of two farm cats in New York in 1983. The kitten produced from this pairing, Brownie, caught the attention of the farm owner for his rich, glossy, chocolate coat.
In July 1989 Chiefari's veterinarian introduced her to Nancy Belser, a cat breeder and a Cat Fancier's Federation judge. Belser came out to the cattery and confirmed what Chiefari already believed this breed was unlike any other. Belser recommended that Chiefari show her cats in CFF. That September, Chiefari took Prince, a brown six-month-old male, to a CFF cat show and registered him in the household pet category.
The Cat Fanciers Federation and the American Cat Fanciers Association recognized York Chocolates as an experimental cat breed in 1990. By March of 1992, the breed was given CFF Championship status in the US, and the Canadian Cat Association soon followed in March 1995 by giving the York Chocolate cat Champion status as well.
Description
The York Chocolate Cat is a medium to large cat with a muscular (but not massive) body structure. The head is a rounded wedge, the muzzle is moderately long. The large pointed ears tilt forward. The eyes are almond-shaped and can be green, gold, or hazel. The long fluffy tail is tapering towards the tip. The feet are well-tufted. The coat is semi-long haired and very fine. It is either solid chocolate, solid lavender, white and chocolate, or white and lavender. They have large bones and muscular bodies making them a large size cat the males weight between fourteen and eighteen pounds and female's weight between twelve and fourteen pounds.. They are of a body type between a foreign type and Oriental.
Temperament
The York Chocolate cat breed is known for its Affectionate, Loyal, Playful, Sweet, active, intelligent, and curious, constantly monitoring the activities of their owners. Their curious nature makes them follow you all the time and participate in almost everything you do, even if it's related to water: unlike many other cats, York Chocolates love it. They are intelligent, energetic, and usually get along well with children and other pets. Excellent hunters, A good choice for those who do not want a hyper-active cat like the Abyssinian or Bengal, but want as lively and smart companion. They chose one person as there "special person" but show and affection to all members of the family. They are good with children and get along with other pets. They like to sleep with their special person and can be vocal when they want something. Otherwise they are a fairly quite cat breed.
Health
The York Chocolate cats are naturally robust, and there are no breed specific health problems known at the present time. However it is to be assumed that they are susceptible to all the normal ailments that affect cats of other breeds.
Care
The York Chocolate cat have a Minimal Grooming