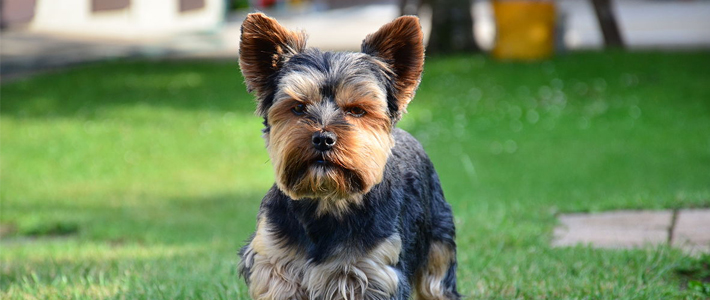 Who wouldn't fall in love with this frisky, lively, bright and loving diminutive beauty. A lover of comfort, the Yorkshire Terrier enjoys cuddling on laps and snuggling into soft pillows. They are commonly called excellent companion dogs, well-known for their small size and perky personalities.
If you are one of those who can't resist this little bundle of fur and are planning to get one, it is important to know the breed completely before jumping in.
There are two kinds of Yorkie, one that is vigorous and another that is a delicate toy dog. However, the relationship an owner has with an individual dog will depends a lot on the way he or she views him.
Yorkshire Terrier, a Bright, Active and Frisky, Athletic and Loving dog breed. Find out if this is the right breed for you.
Bright
Some Yorkshire Terriers are bright and quick to learn, while others are rather willful and opinionated. Yorkies often dislike walking on a leash and may dart to and fro until taught how to behave.
Based on a study conducted by the AKC (American Kennel Club) and the CKC (Canadian Kennel Club) the results show that the Yorkie places at #27 among 90 dog breeds, in the category of above average intelligence, tying with Chesapeake Bay Retriever and the Puli.
This means that the Yorkie, overall, will learn a new command after 15 to 25 repetitions. And this means that in general, they will obey a command, the first time it is spoken, 70% of the time.
Active and Frisky
This little dog is highly energetic and very eager for an adventure. Smart and self-assure the Yorkshire Terrier is a combination of small size and adventurous terrier spirit.
This generally active dog breed usually spends much time trotting (or dashing) around checking things out with its lively and inquisitive, physically and mentally quick characteristics.
Athletic
The Yorkshire Terrier has a very athletic build and this dog breed is very agile. Although the Yorkie is a toy dog breed, only weighing a maximum of 7 lbs. ( 3.17 kg) per AKC standards, this dog does require regular exercise to maintain good health.
While the Yorkshire is a very active dog, they will be fine living indoors and will do okay without a yard. A great dog for apartment life.
As they are active little dogs they will need a daily walk. They love to play and this is a great strategy to take care of a lot of their exercise needs.
However, as with all breeds, it will not fulfill their primal instinct to walk. Dogs that do not get to go on daily walks are more likely to display behavior problems.
Loving
A Yorkie is a wonderful affectionate companion, especially with its master!
As a lover of comfort, all the cuddling and snuggling might cause your Yorkshire Terrier to become demanding and dependent, appearing to need a lot of human attention.
Additionally the may developing jealous behaviours, snapping if surprised, frightened or over-teased. If this is the case you might need to do a bit of a rethink on how you are treating your little cuddly friend.
The Negative Side of the Yorkshire Terrier
This dog is often only recommended for older, considerate children, simply because they are so small. Most people allow them to get away with behaviours no dog should display.
The Yorkie is generally easy to train, although they can sometimes be stubborn if owners do not give the dog proper boundaries. They can be difficult to housebreak.
This dog breed requires regular brushing and combing, or regularly trimming of the coat.
Yorkshire Terrier Puppies have fragile digestive systems and when they eat foods outside of their normal diets, they usually have severe reactions.
Conclusion
This dog breed is fun to have around and they are a great option for apartment living. Yorkshire Terrier Puppies are small and like to run around indoors in warm climates, as because they are so small, they don't handle the cold weather very well.
Regardless of its size, this dog does need a daily walk to prevent hyper behaviour indoors and loves to be with its owners for cuddles!
The Yorkshire Terrier is protective and fun-loving and can be transported virtually anywhere and stylishly so.  They are is perfect for a family, couple or individual who is willing and able to give him the attention that he needs!
Want more information, check out our full Yorkshire Terrier Guide!
http://www.petpaw.com.au/wp-content/uploads/2015/11/Yorkshire-Terrier-Pup.jpg
300
710
Cabbie Patch
http://www.petpaw.com.au/wp-content/uploads/2012/06/logo2.jpg
Cabbie Patch
2015-12-07 11:09:43
2016-01-31 02:21:17
A Diminutive Beauty - Is the Yorkshire Terrier Right for You?